Pilates for Rehab
Rehab Your Body with Pilates
"A few well-designed movements, properly performed in a balanced sequence, are worth hours of doing sloppy calisthenics or forced contortion. -Joseph Pilates"
The theory of Pilates is that most people have spinal imbalances due to injuries, not knowing how to use their bodies properly, or because of the kind of work that they do. Some patients may be in constant pain from their muscles being overworked; therefore, they need to stabilize their muscles. Pilates helps to rehabilitate the body so the core muscles are working. With Pilates you experience strength from the core out to the external part of the body.
---
Our Instructors:
Sammi
---
Jesse Masche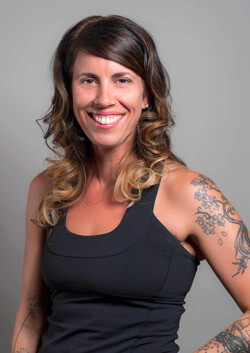 Jesse Masche is the driving force and heart of East Side Pilates. As acting studio manager and part owner Jesse sees over all operations at ESP. She has been a Rehab Specialist; certified in Exercise Prescription & Orthopedic Testing since 2009. Additionally, she has been a Licensed Massage Therapist for over 17 years, specializing currently in Deep Tissue Therapeutic massage. Jesse began training for her certification in mat Pilates in 2007 through Power Pilates. She then began her full apprenticeship in 2009, receiving her certification in Full Pilates Apparatus Training at Essence Pilates in Chicago in 2011. She was immediately asked to be a Pilates instructor in Milwaukee once her coursework was finished. Here she refined her skills as an instructor in constant practice. In early 2013 The Pilates Garage was added to the existing Masche Chiropractic space in Greenfield, as Jesse and her parents wanted to create a space where clients could experience complete mind and body health. By December 2013, the Masche family had the opportunity to purchase East Side Pilates. Jesse took this opportunity to transform the space into a more modern design, using her expertise from her fashion design degree from IADT in Chicago, reflecting the younger, active clientele in the neighborhood. Next up was creating more workout options geared toward working professionals and students such as out-of-the-box classes to help "escape from body boredom", pilates in the park events, weekly happy hour sessions, workshops on current trends in health (highlighting nutrition, cleanses, organic makeup and supplement education classes) and even Pilates focused getaways. Jesse wanted both studios to reflect the mission of breaking out from your normal workout and mental routine to see real changes in your body and life.
---
 Samantha
​
Click images for larger view:
---
Drs. Jack  has a studio called The Pilates Garage at Masche Chiropractic Health Center. Participants can take classes or get private lessons. He also own's East Side Pilates studio which their daughter manages.
Classes at The Pilates Garage include:
Intro to Pilates – Let's face it, starting Pilates can be intimidating! Our Beginning Pilates class is designed to give someone who is new student to the Pilates Method (or an existing student who wants to review alignment and technique) a rewarding foundation for a life-long practice. Beginning Pilates is designed to give a comprehensive Pilates experience, using the Reformer, Mat, and Tower. Class cost: $190 for 3 Private lessons, Private Lessons $70 for 1, $340/5, $590/10, Semi-Privates Price per person $30 for 1, $260/10, Intro to Duets $100/3 Price per person, Duets $40 for 1, $350/10   Please note: Purchases are non-refundable and non-transferable, and we require a 24 hour notice of cancellation on all classes and lessons. If cancelation is not received 24 hours before your Pilates appointment you will be charged a "late cancel" fee of $70.00. Private lessons expire two years from purchase. Intro packages are limited to one per person and expire one year from purchase.
Pilates Garage Hours: Monday to Thursday By Appointment
Privates by appointment only
Current Classes: Thursday 6:00 PM.
We are accepting new clients for all classes. Contact our office to schedule today!
---
Pilates in Greenfield | (414) 529-5370